Yvette Costeau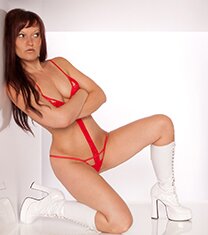 Yvette Costeau is a successful actress and model for Bondage, SadoMaso and fetish. Her carreer started as porn actress which brought her to BDSM. Meanwhile, Yvette Costeau is one of the most known actresses and models for BDSM and won a Venus Award as best international BDSM model.
She made films in Germany, Spain and the USA and works for the biggest BDSM events worldwide like the BondCon and Fetish-Con.
Yvette Costeau loves to be naked which brought her to another project: the naked in public project. She takes a walk in the public to trainstations, in parks or shopping miles completely naked.
From now on we have Yvette Costeau as 3D printed figurine in our online store in three different sizes.
Yvette Costeau